Bringing ICT to Farmers via Web 2.0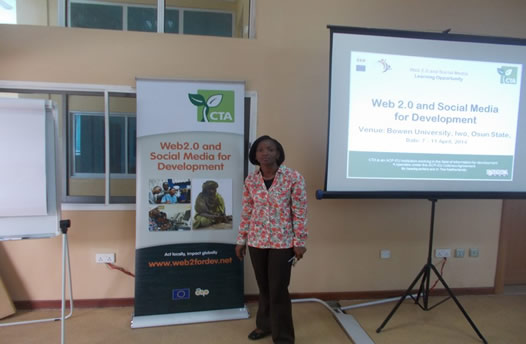 Technological innovation is taking place at a breath-taking pace. Simple, open source internet-based applications and services designed to enhance on-line collaboration are now available to the wider public at little or no cost at all. These new online technologies known as Web 2.0 applications and social media – enable people to collaborate to create, share and publish information.The Bowen University, Nigeria in collaboration with The Technical Centre for Agricultural and Rural Cooperation EU-ACP (CTA) Netherland  hosted a 5-day Web 2.0 Learning Opportunity which  started on Monday 07 April 2014 at 9 AM.
Agar Vision Africa Agricultural Initiative represented by one of her Directors, Oluwakemi Olurinola participated in the workshop. During the workshop, participants were introduced to selected web 2.0 applications and  learnt how to use them hands-on.
The Learning Opportunity covered advanced online searching, getting information served via alerts and RSS, collaborating remotely using wikis and Google Drive, using VoIP, online mapping and social networking. Participants were given a chance to see what others have done, get hands-on experience on how to use innovative applications, and assess how they could adopt these innovations within the context of their work and organisation.
Programme of the Learning Opportunity
1.  Introduction to the participatory World Wide Web (Web 2.0)
2.  Search Magic: How to conduct advanced multilingual online searches;
3.  Information Self Service: How to get selected information served to you via alerts and RSS feeds;
4.  Remote collaboration: How to develop content remotely using wikis and Google Drive;
5.  Online mapping: How to locate your organisation and your projects on a online Map;
6.  How to communicate voice over the internet at no cost;
7.  Online publishing (micro-blogging and blogging);
8.  Professional / corporate social networking (LinkedIn and Facebook);
9.  Web 2.0 self-instruction (introduction to iMARK)