AVA @ Microsoft NGO Connection day

THE MICROSOFT NGO CONNECTION DAY 2014 which was held on the 5th of June, 2014 at the Ibis Hotel, Lagos was organized by Microsoft in collaboration with Paradigm initiative Nigeria (PIN).
The program was organized to celebrate the work done by non-profit organization in Nigeria who are helping to transform their communities through tier various innovative ideas.Agar Vision Africas' Oluwakemi Olurinola attending the program to give awareness n positive advocate the need for more trainiing programs for rural dwellers.
According to Kabelo Makwane, the country manager, Microsoft Nigeria, the Microsoft NGO academy underscores Microsoft's commitment to expand the power of collaboration by supporting this critical sector.
The program began with a formal opening by Tope Ogundipe, the Chief Operating Officer PIN, the participants were then trained in The use of social media and web tools.
A presentation on The relevance of ICT in the NGO sector was given by David Barnard, vice president: Africa Techsoup Global.  He noted that ICT helps NGOs to increase organizational effectiveness and efficiency, increase scope and reach of activities, enables communication and information sharing, can be used in advocacy, fundraising and networking, enables transparency and affords compliance; in general ICT helps make our work better.
Gbenga Sesan, Executive Director PIN, conducted the training on the Introduction to Microsoft Digital Literacy Curriculum and internet and safety and security. On security tips, we were advised not to click on unsolicited links from unknown people, change password if you suspect hacking or compromise, use secure passwords, amongst a list of others.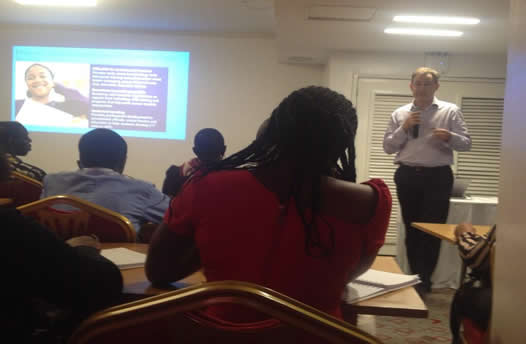 ALso on board was Ugo Nwosu, stakeholder development officer (Nigeria & Ghana) Rockeffeller Foundation and Anthony Cook, Microsoft's assistant  general counsel, Middle East and Africa who gave the closing keynote address.
Over the course of the forum, participating NGOs had the opportunity to ICE (interact, Communicate, and Engage) with one another and share resources.