AVA Kicks Start Experimental Farm Project


by Olufemi Shobayo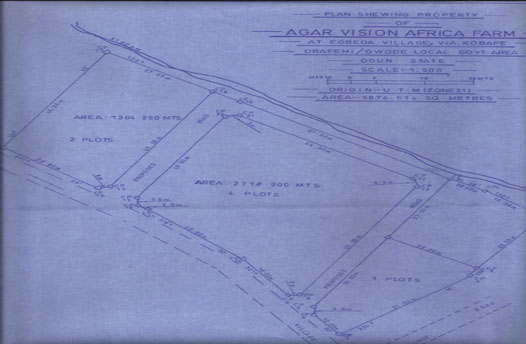 The experimental Farm project of the Agar Vision Africa Agricultural Initiative had turned from a dream to a reality by the initial acquisiton of a proportionate piece of land at Edgeba Village, via Kobape in Obafemi Owode LGA in Ogun State.This move brings the organization closer to its aims of achieving food security through sustainable agricultue.
The proposed experimental farm is supposed to accomodate a Piggery House, Poulty house, Cattle and goats herd , Fish Ponds, vegetable and fruit processing unit and Vegetable Gardens, also on site would be a Farm house for adminstrative and supervisory purposes.
The farm is modelled to suit the needs of building the capacity of Farmers in that region by training them on best organic farming practices in respect to sustainable farming like in use of organic fertilizers, pest & weed etc .
After possible harvest and processing, the waste acquired both from crop and animal would be processed into biogas for cooking and lightening purposes.Its our believe that after carrying Farmers through this training process , they would be able to save cost of production , earn more money and live healthy.
Agar Vision Africa Agricultural Initiative once more calls on all the stakeholders in the Agro allied industry to put all hands on deck to make this initiative sustainable by contribting with Technical assistance, Funding and Moral support.We also encourage Farmers to get in touch with us by Calling the number
+23439290829 in Nigeria .The fight for food security Africa has to be achieved by trully making efforts to give a voice to the Farmers and build them up to be able to face challanges of the new era.